The other day I was listening to
93.3fm
in Cincinnati and a song came on called "
The Motions
" by Matthew West. If I may add my interpretation, the lyrics represent Matthew West's own challenge to live more passionately and vibrantly for Jesus Christ everyday and not just getting by with second-rate Christianity. The chorus reads like this:
I don't wanna go through the motions
I don't wanna go one more day
Without Your all-consuming passion inside of me
I don't wanna spend my whole life asking
"What if I had given everything?"
Instead of going through the motions
Pause.
I have been training to run my first marathon, the
Cincinnati Flying Pig
. It is a fun way for me to push my limits and challenge my body (especially in light of Katie carrying twins right now and experiencing the same challenge of reaching physical limitations in her body...in many ways, the marathon is my twins--metaphorically). Through the training I keep telling myself
farther or faster
. Each time I go out I try to accomplish one of these two agendas: run the same distance or shorter but do it at a faster clip, or run a farther distance than I've ever gone and not worry about my pace.
On average I do about a 9:00 minute mile, sometimes as quick as 8:45 m/m. Last week I ran 16 miles, which marks my furthest run so far averaging just under a 9:00 m/m (which is my goal pace for the Flying Pig). This past weekend I was slated to run another 16 miles, so I challenged myself to pursue a faster time while running the same distance as the week before.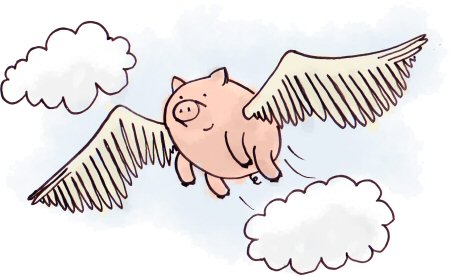 I met up with some of the "fast boys" at the
ECHO running club
that meets at
Parkside Christian Church
. They were planning to do a long run at an 8:15/8:30min pace for 20 miles. I met up with them 4 miles in and struggled along at the back of the pack, trying to keep up. All said and done I was able to run my 16 miles at an average 8:15min/mile, which was quite a bit faster than I had even anticipated being able to do! I am quite convinced that this is not because I was feeling capable of completing the run at that pace (in fact, there were many times that I wanted to quit and fall back to a slower pace) but rather because I felt called on to run with the guys I was with. It was dark out, I didn't know the way, and if I got left behind I truly would have been left in the dark. (I see a completely other illustration forming about how your friends call you on to purity and accountability and that higher calling makes you a better person, but that's not where I'm headed with this one).
At the end of the run I realized that I have been training to run the Flying Pig in a sub-4 hour time, hoping most of all to just finish the race, but ideally to beat the 4 hour time frame. After this long run I realized that I may be short-selling myself with that time. That I may finish the race and realize I still had some juice left in the can (I'm sure there is never a marathoner who would actually admit to feeling that way after 26.2 miles however). I realized that I may very well be capable of finishing the race at an altogether faster pace than I have been planning on.
Fast-forward.
I don't want to go through the training schedule and just log miles--I want to go out there and feel like I gave it everything I've got. I don't wanna go through the motions.
I don't want to be satisfied with living life checking off each day's to-do list and trying to maintain a level of "spiritual sanctification." I want to live life to the absolute fullest, making sure that when I cross the finish line of this life, that I will be able to face Jesus and know that I have given my absolute best to Him.
1 Corinthians 9 says,
24

Do you not know that in a race all the runners run, but only one gets the prize? Run in such a way as to get the prize.
25

Everyone who competes in the games goes into strict training. They do it to get a crown that will not last, but we do it to get a crown that will last forever.

God is calling us to not just run the race, not just compete in the race, but to win the race. In order to win, we need to train ourselves spiritually in a rigorous manner. We need to keep pushing forward, pushing onward, never satisfied with the status quo.


I have often wondered what the value of a cross-country coach is. I mean, come on. Doesn't a running coach basically just stand on the sideline and shout, "Faster! Faster! He's gaining on you, Faster!!"?
Realization: a coach is someone who knows your abilities better than you know them yourself.
So, in the case of running, a coach is someone who can stand on the sideline and evaluate your performance based on what they've seen you do in practice and tell you that you truly
are
capable of running faster/farther/etc. In baseball, a coach is someone who knows when you have adjusted your swing/arm motion and aren't performing at your best, because they know your abilities and can evaluate what needs to change in order for you to perform at your best.
Gratefully, we have such a coach. His name is Jesus. He knows us better than we know ourselves. He knows our abilities, He knows our imperfections. He knows us because even before we were
knit in our mother's wombs
, He had precious thoughts of us. God knows our abilities and He is calling us onward, shouting, "Faster! Faster! I know that you are capable of so much more! Perform at the ability I made you to perform at!" and His Holy Spirit is inside of us giving us the strength and stamina to perform at the higher calling.
Don't just go through the motions, live a life committed to bringing Him excellence.